Copper Roof Accents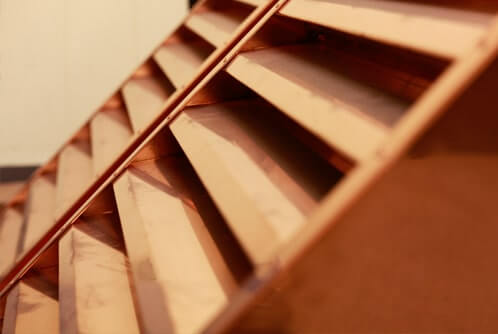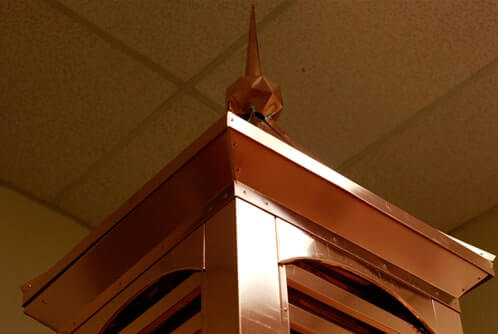 Moody Metal Fabricators specializes in copper roofing and accents. Our pre-fabricated and custom designed roof solutions elevate the character of your exterior design. Tulsa home owners rely on us for roof replacements and enhancements, with copper emerging as a preferred material of choice for many.
Are you ready for copper roofing?
If you've driven past homes with copper roofing, you may have noticed how the natural metal lends a special beauty to the property. Copper is a popular choice of roofing material not only for its curb appeal but also for its durability and light weight. With good maintenance, your copper roof should easily last you over 50 years or more.
Copper roofing experts in Tulsa can custom engineer a roofing solution that suits your home and personal style needs. Every day, our workshop readies metal roofs for installation, and also fabricates products that can be purchased directly without a prior design brief. In both instances, you can count on precision design, premium quality and masterful workmanship.
There are many ways to incorporate copper in your roof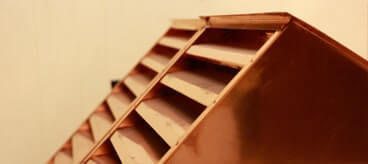 Copper flashings
Copper flashings instantly improve the look of your roof. If you've been exploring different ways of creating a more comfortable interior living environment, consider copper flashings.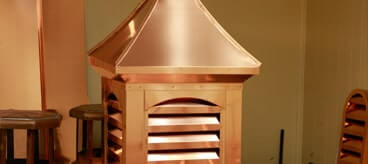 Copper cupola
Before roof vents, cupolas assisted with ventilation. Today, a copper cupola is a sought-after statement piece to add a classic touch to your roof. We can design a copper cupola in many shapes, including the common square, round or octagonal.
Examples of Our Copper Roof Accents
---
Unique decorative roofing accents choices
Common roofing accents are bay windows, cupolas and porches. We expertly design the roof accents so they can refresh your home's exterior look without disrupting your present architecture. For example, our Tulsa decorative roof accent fabricators can convert your lower slope roof sections to metal in a compatible color with your main roof and exterior walls. Or we can incorporate a metal tower that adds a modern twist to your home without looking out of place or like an afterthought.
---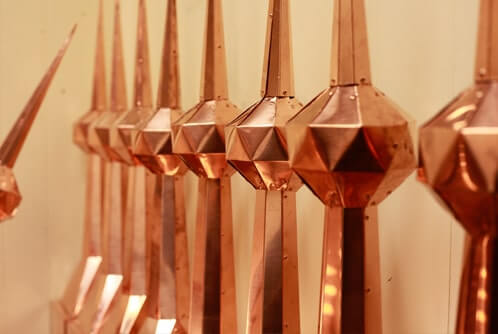 Finial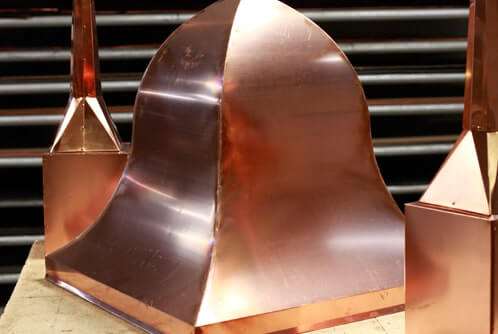 Chimney Caps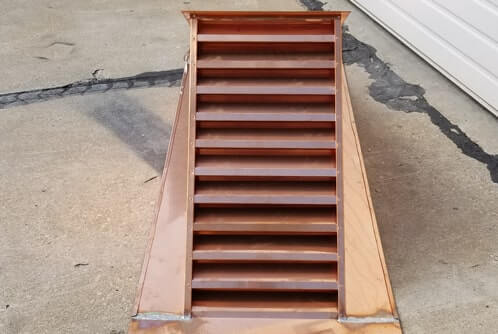 Louver Vents
Cupola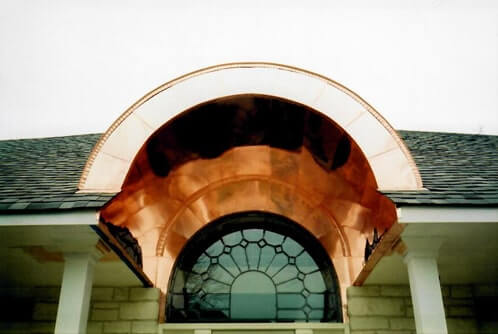 Roll Top
Being a malleable metal, copper can be fashioned into curves, domes and various elegant shapes. Over the years, copper roof fabricators in Tulsa have upped their design game to meet the demanding needs of home owners. Moody Metal has stayed on the cutting-edge of copper roof and accent design, delighting clients with our creativity and attention to quality.
Exceptional Service
We believe that good communication is key to successful roof design and installation. On custom projects, we collaborate closely with you to understand your requirements, make suggestions that consider aesthetics and practicality, and always meet the promised turnaround times.
We are also happy to recommend pre-fabricated pieces that can be installed soon after you've made your choice. Our professionals are honest in explaining our product specifications and the services we can offer as part of your project.
Talk to our talented Tulsa copper roof fabricators today to discuss your requirements. We look forward to beautifying your home.
Schedule a Consultation Today!